Install Permeable Hardscapes
From Slow it, Spread it, Sink it! A Homeowner's Guide to Greening Stormwater Runoff, Resource Conservation District of Santa Cruz County)
Uses: Walkways, patios, parking areas and driveways
There are many new types of permeable or pervious materials that allow runoff to pass through and SINK back into the soil. Some popular choices are paver stones, turf block and permeable asphalts and pavements. There are now pervious options for almost any application. Since the variety of options is growing rapidly, we will only discuss them generally. For specifics on installation and use, contact your local retailer or product manufacturer.
Paver Stones/Flag Stones
Paver stones are normally made of pre-cast brick, concrete, stone or other material and installed over a sand base. They come in various shapes and normally interlock and can form different shapes and patterns. Pervious pavers are designed to allow more runoff to SINK into the ground than traditional pavers. Each paver has a spacer that ensure the ideal distance between placed stones for maximum infiltration.
Each piece is placed with gaps between to allow the infiltration of water. Flag stones are larger and may be placed directly on the soil. A low-growing ground cover may be planted between flag stones to allow for greater infiltration. Pavers can be used in high use area such as parking lots, patios and walkways.
MAINTENANCE: Keep the area clear of sediment to prevent clogging. Annual vacuum sweeping with a shop vac helps maintain permeability. The gaps between pavers may require occasional weeding or scorching and sand or gravel replenishment. Because pervious pavers are easily lifted and reset, they are easy to repair or replace.
DO
• Use only in gravelly sand, loamy sand or other pervious native soils.
• Plant vegetation in between or around pavers.
DON'T
• Use in areas with high sediment loads that can clog porous areas.
Turf Block
Turf block (concrete blocks with holes) and similar products can be filled with sand or planted. They provide soil stability for driveways and walkways. Sometimes the pores are filled with gravel or cobble. They are not ideal for everyday parking, because of irrigation and maintenance demands, and if they are planted, long term parking inhibits sunlight required for plant growth.
MAINTENANCE: Planted turf block may require regular mowing (depending on plant choices) as well as irrigation, fertilization and weeding.
DO
• Choose low water grasses such as native fescues.
• Use only in gravelly sand, loamy sand or other pervious soils.
DON'T
• Use in high traffic areas or permanent parking areas.
• Aerate.
PERVIOUS HARDSCAPE DRIVEWAY / SITE APPROPRIATE LANDSCAPING
Location: Santa Cruz
Designer: Habitat Gardens
Installation: Habitat Gardens
Project Description: The concrete driveway was removed along with the existing lawns in both the front and backyard. Broken pieces of concrete from the driveway were used to make flagstone-like pathways and a small patio. The concrete was stained with environmentally friendly iron sulfate to give it a warm, rusty flagstone color. The new driveway is made of two pervious, turf block drive strips with thyme growing out of the turf blocks and in between the cracks of the steppingstones. Thyme is planted in between all the steppingstones, and the rest of landscape is very drought resistant with a wonderful mix of Mediterranean plants, succulents, California native plants, edible plants, and one fruit tree.
Pervious Pavement
Pervious pavements contain pore spaces that allow infiltration of runoff. The water seeps through the material to a rock base layer underneath and is naturally filtered through the underlying soil where pollutants are removed. There are different types of pervious (or porous) pavements including porous asphalt and pervious concrete. Soil must have permeability between 0.5 and 3.0 inches per hour to be considered for pervious concrete installations. The bottom of the rock base/reservoir should be completely flat so that runoff will be able to infiltrate through the entire surface. Pervious pavement should be located a minimum of 2 to 5 feet above the seasonally high groundwater table and at least 100 feet away from drinking water wells. Ideal uses include walkways, residential parking areas, and driveways.
Although installation is becoming easier and a more cost-effective alternative to traditional paving methods, appropriate construction techniques are necessary to ensure the effective performance of pervious pavements. Hiring a licensed contractor experienced in these materials is highly recommended and may even be required depending on the application.
Pervious pavement at StoreMore, a storage facility on Soquel Drive.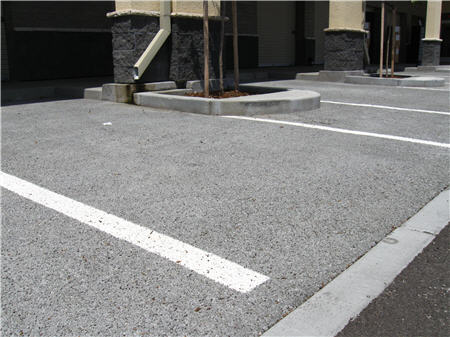 MAINTENANCE: Keep clear of soil, rocks, leaves, and other debris. Vacuuming annually, using a shop vac or specialized vacuum for larger areas, may be necessary to remove debris from the surface of the pavements. Other cleaning options may include power blowing and pressure washing. Always follow the manufacturer's maintenance recommendations.
DO
• Consult a professional to recommend a design customized to your site.
• Treat surrounding bare soil areas by planting or mulching.
DON'T
• Use in areas where there is a possibility of sand drifts.
• Seal or repave with non-porous materials.